"It should be easier than this."
When I was younger the idea of having a quiet time sounded exciting. A  chance to connect with God — an opportunity to express my commitment to Him. That's until I realized God wasn't speaking the way I thought He should. Not only that, my mind was constantly wondering… It should be easier than this.
The crazy thing about life is that no one really teaches you how to do it — you just learn through experiences. 
That's how I was with coffee. I thought a triple grande iced caramel macchiato from Starbucks was the way to go. Until someone showed me a better way — thanks Nashville. Who knew such great coffee could be made at your house? Now I'm drinking better coffee and saving money.
Kinda like coffee, not one taught me how to spend time with God.
Today, I want to show you how to have a quiet time. If you have a routine that works, stick with it. But maybe you're like many Christians and you don't have a regular quiet time because no one ever taught you how to have one — this is for you.
4 Steps To Having A Quiet Time With God
1. Worship First
Psalm 100:4 says, "Enter into His gates with thanksgiving, And into His courts with praise. Be thankful to Him, and bless His name."
In church we don't just worship before the message because that's the way it has always been done. We do it because worship focuses our hearts and minds on God. It positions us for clarity as we engage with Him.
So when you sit down to have a quiet time put on a worship song or two. Close your eyes and focus on Jesus. Don't merely repeat the words but allow them to penetrate deep within your heart. Begin to praise God for who He is and thank Him for what He's done.
God's presence is the beginning to peace over your situation. 
2. Pray What's On Your Heart
This actually is easy, but for some reason we make it hard. I believe this cartoon illustrates it perfectly.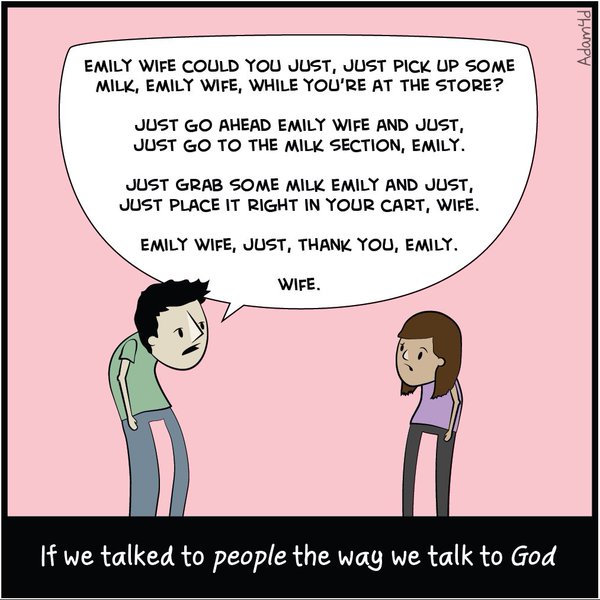 Our prayers to God should feel as natural as a conversation with a friend.
I can remember a tough break up I went through in college. The next day, I was on my way to class and I decided to talk to God as if He was in the seat right next to me. I shared with Him my feelings and frustrations. By time I got to class, I felt like a new person. Was I still hurting? Yes. But I had a peace that I hadn't experienced.
If you have struggled with praying in the past, try talking to God in a new way. Don't beg or take Him through some life agenda. But talk to God as you would talk to a friend. Learn to relax and enjoy conversations with Him.
3. Read The Bible
Hebrews 4:12 says, "For the word of God is living and powerful, and sharper than any two-edged sword, piercing even to the division of soul and spirit, and of joints and marrow, and is a discerner of the thoughts and intents of the heart."
This verse holds insightful revelation into the power of God's word. First off, the verse says that the word of God divides between the soul and spirit. Our soul is our mind, will, and emotions. Our spirit is God's mind, will, and emotions living inside of us. In times of indecision, we find ourselves saying, "I'm not sure if that's me or God?" Which is understandable, sometimes it is hard to distinguish between the two! However, when we read God's word He will speak directly to that situation we were confused about.
When I was in a season of wondering what to do next with my life I prayed, "Holy Spirit, as I read the Bible will you speak to me about my future." Immediately afterwards, I opened my Bible to Ezekiel 48:1 that read, "the territory of Dan is in the extreme north…" I knew this word for me. In fact, it was confirmation that I was supposed to move to Sweden. To read more about that story you can read this blog.
I challenge you to change the way you see God's word. It's not merely a history book. The Bible is a book of daily revelation and strength. Go ahead and ask the Holy Spirit to give you a fresh word from the Bible today.
4. Journal Your Thoughts
Look, I hate writing just as much as the next guy but hear me out. Having a prayer journal is a powerful tool in building monuments of God's goodness.
I love to go back and read my old journals. It affords me the opportunity to relive some of the most difficult moments of my life and remember God's faithfulness. This is especially crucial if you feel you're under spiritual attack. When we remember how God answered the prayers of our past it creates faith for trusting Him with our future.
Here's a few journaling recommendations:
Get a nice small notebook (my favorite)

Don't write everyday, start with once a week

Don't write pages, write paragraphs (start small)

Include the good and the bad

Date your entries
This is one habit that you will thank yourself for later — trust me.
I hope this blog encouraged you! If so, feel free to share it with others!
Also I'd love to hear your favorite way to have a quiet time, let me know in the comments below!
Comment Below
comments